Discover more from Disappear Here
Culture, media, and maybe occasionally markets.
They Really Seem Like the Enemy of the People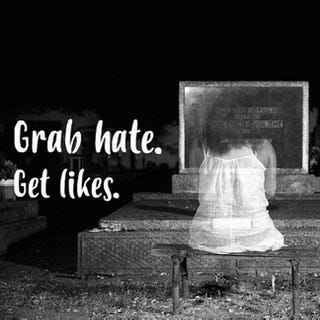 When Donald Trump says something stupid and irresponsible you'd think the first instinct of his political opponents wouldn't be to prove that, somehow, he's actually right. And yet that's where have found ourselves, day after day, for the last nearly four years. Of the few things he's gotten right while in office, Trump's calling out of the American media is perhaps the only one worth actually reflecting on. 

It's been so long since American media did their job that many people can barely recall what that job is, exactly. And this isn't about Fox or MSNBC. Neither of those are really news organizations, although Fox still sort of pretends like they are. But then CNN is almost certainly not a straight news organization either, but tell them that and you'll get Brian Stelter wagging his fat finger in your face with a look of distress and horror at your allegation. But one day, way back when, the news wasn't so obvious about their incompetence and malfeasance. They hid it a lot better. But now the mask has not only slipped off, it's been trampled by a stampede of young journos who think it's their job to preach their words to the masses. The examples are nearly endless, so perhaps just some highlights from this, the year of our Lord 2020. 

Portland Totally Peaceful Protests
Hooboy, where to begin? How about here: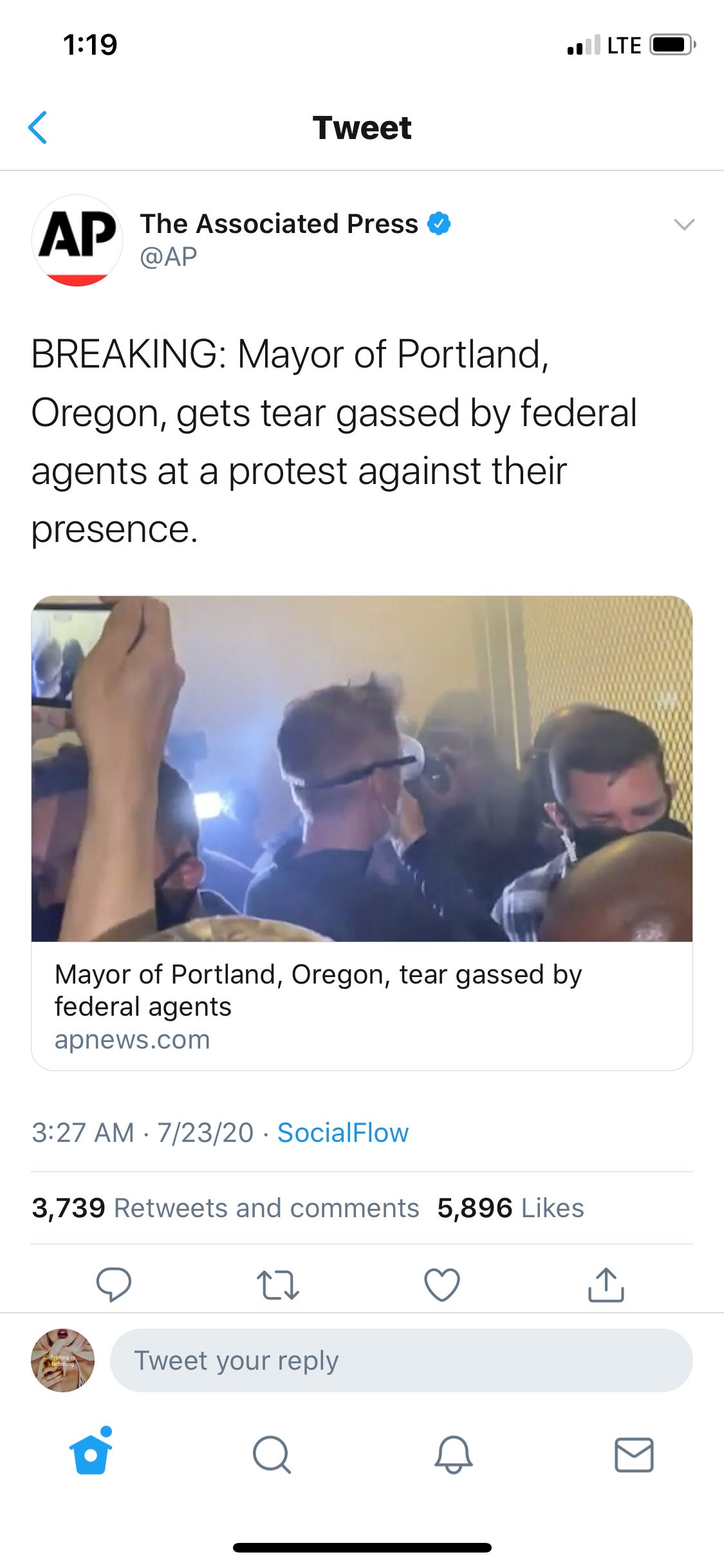 Why was the mayor of Portland tear gassed? Well mostly because he showed up to a totally very cool, very peaceful protest where there just so happened to be fires—certainly they started accidentally—and he was just with the peaceful people who were targeted by the Federal law enforcement that was there.
See, AP knows that this passive voice bullshit is misleading, but they don't care. Their goal isn't news, it's narrative.
How about this gem from Oregon Public Broadcasting:

Seems suspicious that this person is unaware of the fires burning or the warnings from law enforcement to disperse. Plenty of video was available in real time on Twitter, so ignorance can't be the excuse. Almost as if a narrative is more powerful than the full story.
Lest you think others didn't get in on the action of misleading the public here's ABC's take: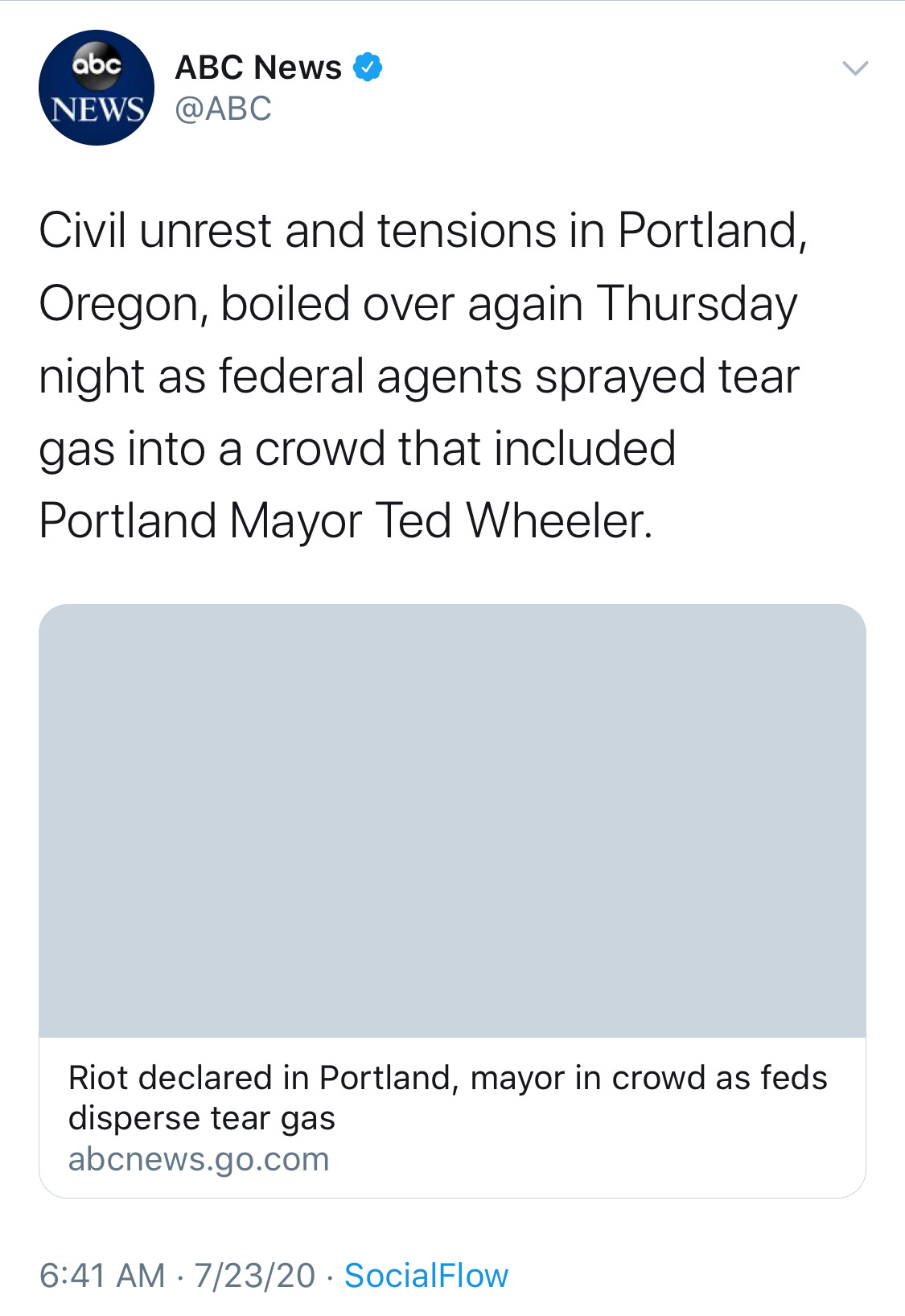 Again, no mention of riots or fires or a defensive fence being breached. Just law enforcement spraying tear gas because of "tensions".
And…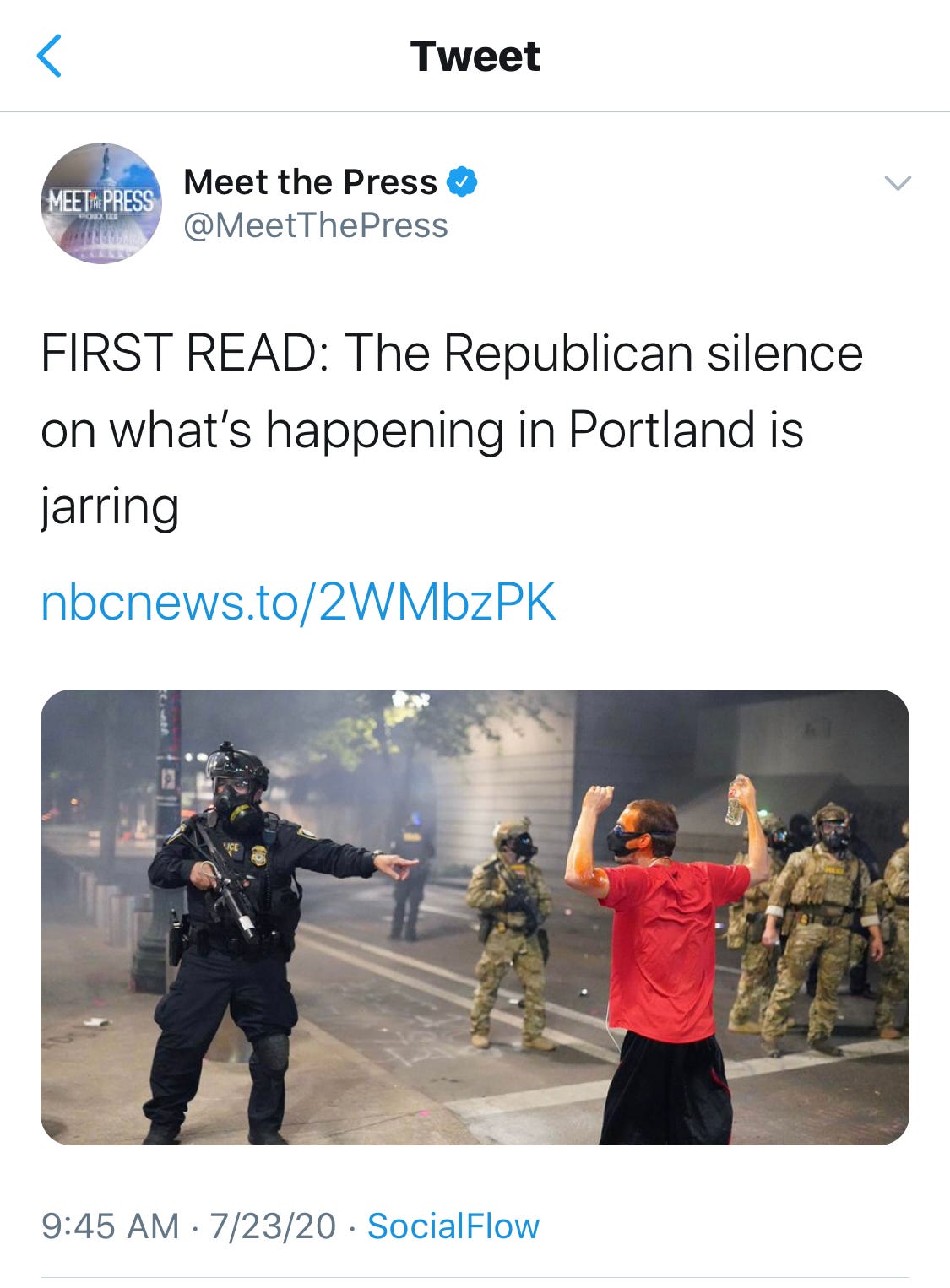 The story isn't the riots or fires or attempts to burn courthouses, it's how Republicans are reacting to those things. Portland, a city that hasn't elected a Republican to anything in decades, should be something Republicans talk about, apparently. The city that as of 2015 was 54% Democrat and 24% "unaffiliated" (meaning too progressive for the current Democratic Party) is now the problem of Republicans who are silent. Yes, this was an actual headline by an actual news organization making this argument. No, they're not in the least bit self-aware.
Here is an instructive thread wherein a NYT correspondent uses the word "protesters" repeatedly even as they throw things at the mayor and aim leafblowers directly at his face. Lately a lot of time gets spent discussing white privilege, and that's probably to some degree useful, but absolutely zero time is spent talking about how manipulation of language to lie about a situation is an unearned benefit to those to whom the media feels some favor. Perhaps deep in the heart of these progressive journalists there's a level of envy for the middle class white kids who get to play dress up and burn things on a Wednesday night. Maybe they sugarcoat reality because they wish they were there alongside these people rather than merely being bystanders. They're basically riot cuckolds.

A whole lot of the stories revolving around the r̶i̶o̶t̶s̶ protests in the cities of Seattle and Portland have been flat-out denied as even existing. The funny thing about the era of Trump—a man who often says demonstrably false things—is how the media has decided to take up his tactic of simply pretending that what you're seeing is merely an illusion.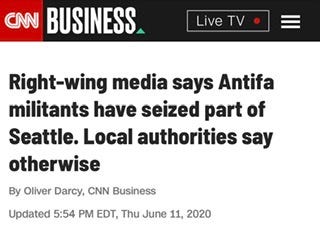 Those Antifa people you saw on Twitter taking over parts of Seattle? Yeah, didn't happen. What you saw wasn't Antifa but actually right-wing media. I mean not physical right-wing media people marching or taking over the city. That wasn't Hannity out there in a mask. But it was still right-wing media and definitely not Antifa. To be fair to Oliver Darcy he's not an actual journalist, he's a "media reporter", whatever the fuck that's supposed to be. And within his piece he admits that a "small, six-block area" has been taken over. This was when the CHAZ was established. But that wasn't really real, you see, because right-wing media was reporting on it. This is how the game is played by those who are under the thumb of powerful corporate media bosses who want narratives and not reporting. Darcy's boss Jeff Zucker is more responsible for the Trump presidency than anyone else in this country (aside from the actual voters I suppose) and he has never had to answer for that. Because he's the boss. He sets the narrative and his lackeys follow directions.
COVID Related Fuckery
This could be a book. It could be a book of a length that would make George R.R. Martin blush. It could be a book so long that no journo would read it (or have their intern read and then summarize for them).
The latest chapter in this book of incompetence and malevolence is titled 'Counterfactuals written by liars'.
Exhibit A: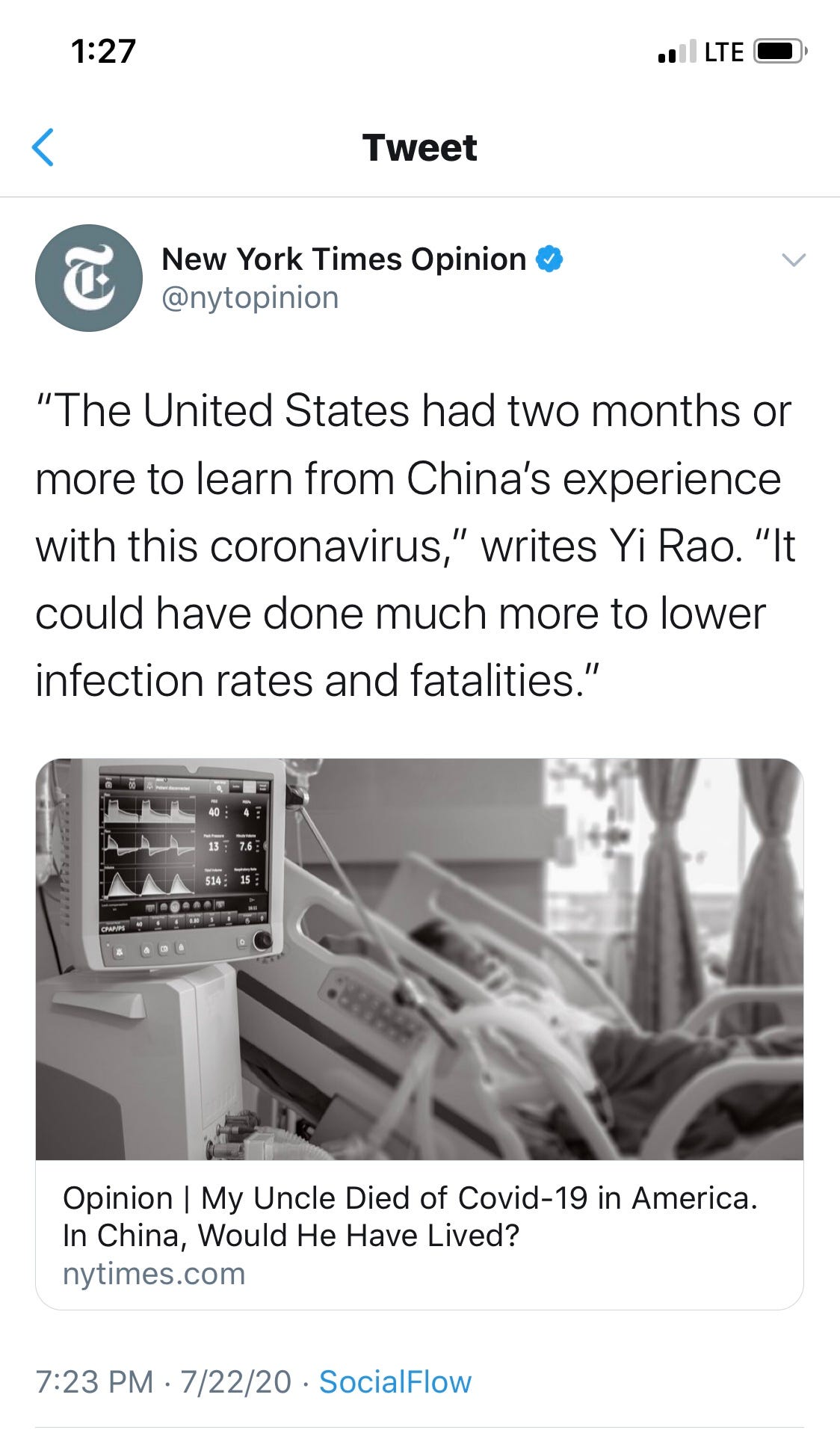 This was written by a man—living in China and teaching at Beijing University —who renounced his US citizenship and has been bitching about being unable to obtain a VISA since 2018. The NYT had to fire (he "resigned", much in the way Epstein "killed himself") an editor not a month ago because he had the audacity to run an op-ed written by a sitting US Senator. Reading the opinion of an elected official was so troubling to the spineless pussies at the NYT that they had to put Tik-Tok Taylor in charge as the de facto junta. But this piece? Totally fine.

Now how about Fredo's brother, the governor of New York? Has the media done any kind of heavy lifting to rehabilitate his image after he turned his COVID death printer to brrrr?

Remember Cuomo's 2nd grade science fair poster that he put out? BUT IS IT ART asks the NYT.
That poster has gotten some serious attention.
Or perhaps this one where the headline begs the question "Does Cuomo Share Blame for 6,200 Virus Deaths in N.Y. Nursing Homes?" as if he were merely a passive bystander. "Share" is doing a lot of work in that sentence.
Now although he's not a member of the media in the truest sense, former Enron advisor Paul Krugman does have a weekly column at the NYT. And, much to the lament of his publicist, he also has a Twitter account. And um, he certainly has some opinions.

This is merely a sampling.
The granddaddy of all COVID/media narrative pictures is of course this one: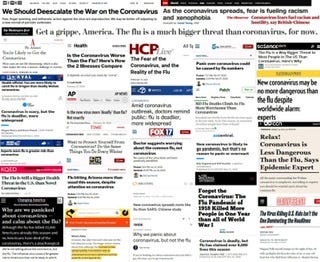 That captures all the failings up until that time—April 1 is when I first saw it—and it's a nice illustration of how miserable of a job our media does. A pandemic wasn't enough to snap our government into action and that is an outrage. But we at least have some choice about who leads our institutions. How much choice do we have when it comes to editorial policy at major newspapers? How do we vote on how CBS or NBC (the network that aided and abetted Harvey Weinstein's crime spree) cover the news? "Turn them off" is an answer, but not a very good one. They're too powerful. The only way to fight back is to flee to independent publishers, whether that means a writer on Substack or an on-the-ground citizen journalist with a Twitter account. But the people who build the narratives will fight back every step of the way. They're already going after Facebook, because of course Facebook is a competitor. When CNN starts writing about which corporations are not boycotting the platform they are engaging in self-interested activism. You can gauge their level of fear by how much they push back against their competition. And right now they seem pretty spooked. But they won't stop building narratives and disseminating them to the world. They can't. Their very survival is contingent on them doing the one thing that has lost them so much credibility.

Ask yourself "why is this being printed right now?" before you react to anything you see in the news. Pause for a moment and consider whether or not you're being manipulated. It's up to individuals to be better consumers of facts. If you leave it up to CNN you'll end up thinking that airplanes can get sucked into black holes.